Masahiro Handmade Katana Disassembled -
MA-203BK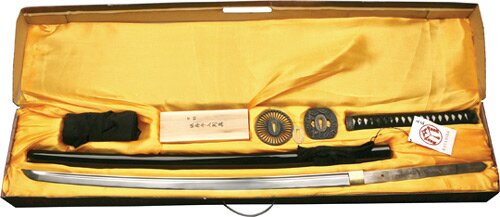 Masahiro Handmade Katana Disassembled
Masahiro handmade disassembled katana.
High carbon steel blade, hand forged, sharp, with bohi. Full tang construction, two mekugi, can be disassembled. Authentic Ray Skin wrapped handle. Saya - wooden. Come unassembled.
Set includes: hand forged sharpened blade, Saya(scabbard), Tsuka (handle), 2x tsuba, 2x mekugi, 2x seppa, maintenance kit, cotton sword bag, instructions.
New packaging(styrofoam and carton) is not so decorative as on pictures.
Customers who bought this item also bought: