Category:
»
Swords, daggers, axes
»
Axes
Kit Rae Black Legion Battle Axe Black -
KR0022B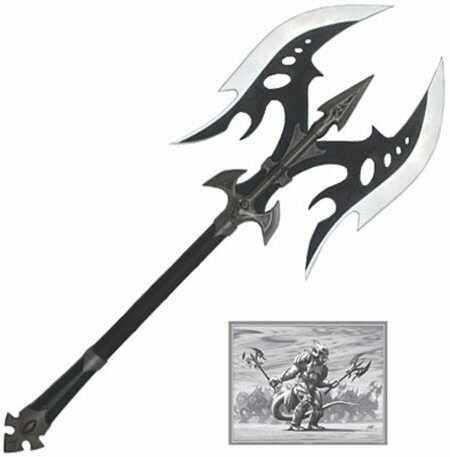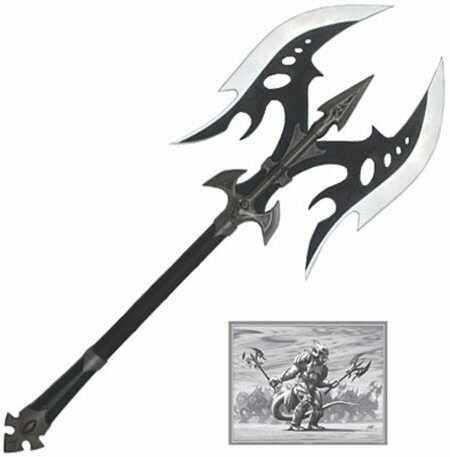 Kit Rae Black Legion Battle Axe Black
The Black Legion Battle Axe features finely detailed solid metal parts and stainless steel etched blades. Each axe includes a certificate of authenticity and is presented with a black-and-white collector art print, "The Barumen" by designer, Kit Rae. The Black Legion" Battle Axe is branded with the designer's trademark to ensure its authenticity.

The fiercest of the Black Legion were the Barumen Axemen of Lokonia. These were the main vanguard of The Dark One's army, made up of the largest and most ferocious of Barumen soldiers. They were heavily armored in plate steel and leather and each wielded two great Battle Axes which they used with deadly skill. The Battle Axe was one of the few weapons forged by the Dark Elves in mass, each one being shaped nearly the same. Every Axeman carried two identical battle axes, with hooked and curved blades, leather grips and skull crushing pommels. The Black Legion Battle Axe could be used to chop like a traditional axe but could also be used to hook and pull an enemy. The Battle Axe could be thrown with deadly precision, and its twin points were devastating. The mere sight of this weapon caused many to retreat in battle rather than face its terrible edge.
Customers who bought this item also bought:
You may also like: