American Tomahawk CQC-T Emerson Design Tomahawk -
ATCQCT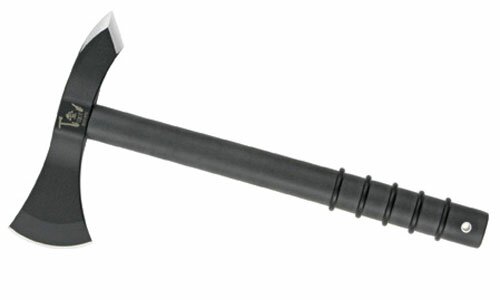 American Tomahawk CQC-T Emerson Design Tomahawk
Ernest Emerson needs no introduction. Suffice it to say, the CQC-T is the culmination of Mr. Emerson's tactical genius brought to bear on American Tomahawk's experience in producing extreme-use axes.
The CQC-T's lines represent speed, efficiency, and simplicity... in other words, "what works". Designed primarily as a personal combat tool, the CQC-T is grace in motion. It's light, fast, and accurate. The retention rings in its textured nylon handle provide a sure, positive grip.
There is nothing else like it, period.
The CQC-T is a personal combat tool, first and foremost. We do not recommend you purchase it as a throwing Tomahawk. It's handle design and blade geometry is meant for retention and aggressive cutting, respectively.
Customers who bought this item also bought: