Hibben Large Cord Grip Thrower Triple Set -
GH0947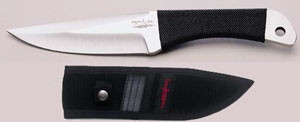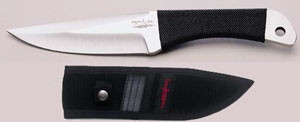 Hibben Large Cord Grip Thrower Triple Set
Throwing Knives
The original Hibben thrower, based on Gil's own karate knife design, also doubles as a functional hunting knife. Each knife is perfectly balanced to assure uniform rotation when thrown properly. The most popular and most imitated throwing knife on the market today. Only accept a genuine Hibben original!
Blade/Handle Material: One-piece 420 J2 stainless steel, high tensile cord-wrap. Sheath: Black nylon belt sheath.
Includes three throwers in a triple pocket sheath.
Customers who bought this item also bought:
You may also like: