Hanwei Scottish Basket Hilt Broadsword -
SH2002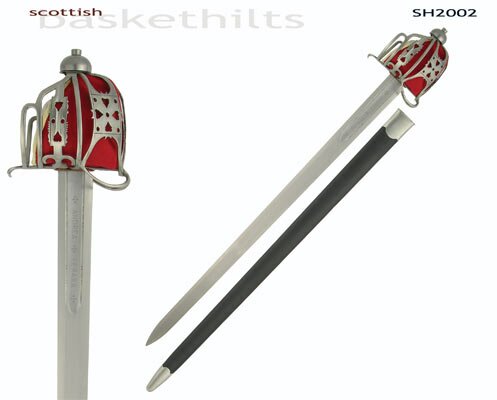 Hanwei Scottish Basket Hilt Broadsword
Although Basket-Hilt swords appeared throughout Britain from the mid-sixteenth century on, their association with the seventeenth and eighteenth century Scottish highlander has become legendary.
Our Basket-Hilt Broadsword, replicated from an original in the collection of the Royal Armouries in England, carries a typical Glasgow-style hilt from the mid-18th century. It is likely that the blade of the original sword, marked "Andrea Ferara", was made in Germany a century earlier and re-hilted as basket designs were refined.
The sword is available in both polished and antiqued finishes. Both hilts are crafted from stainless steel, to minimize maintenance, that of the SH2002 being polished while the SH2002N "antiqued'' version has a museum-quality patina. The high-carbon blade of the SH2002N is also lightly ''antiqued'' to promote authenticity. The grips of the broadswords are covered with wire-wrapped genuine rayskin and the basket liners are crafted in fabric-covered leather. The scabbards are leather-covered, black in the case of the SH2002 and brown for the SH2002N.