Gerber Maintenance Kit -
22-07570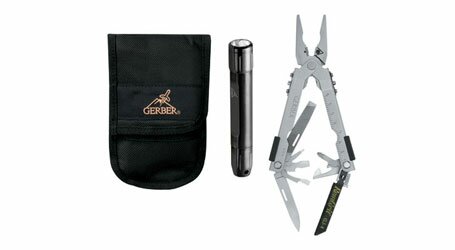 Gerber Maintenance Kit
About the only tangible drawback of Multi-Plier® 600 Woodsman? is that it cant illuminate the dark places and times of the world. Thats why we teamed it with our Trio? L.E.D. in our ballistic nylon sheath. Together, these Gerber mainstays make a pretty dang good maintenance kit. One that can perform 24/7.
The Trio generates a riveting 50-foot beam of light, pouring out from three evenly spaced L.E.D. bulbs. This is the essence of portable luminosity?talk about your dimestore words?and its all powered by simple AA batteries.
The Woodsman sometimes works as if its power-assisted by batteries, because the pliers open so easily using just one hand. But the true story is our patented one-handed opening mechanism. So you can work with the Woodsman in one hand, and the Trio in the other.