DVD Cold Steel Challenge 2004-2007 -
VDCSC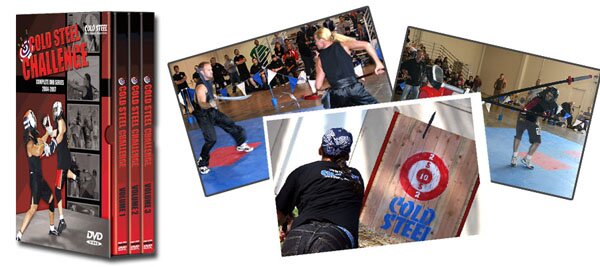 DVD Cold Steel Challenge 2004-2007
COMPLETE DVD SERIES 2004-2007 What is the Cold Steel Challenge? It is a celebration of the warrior lifestyle. It's a place where our friends and customers got together to fight in a controlled, respectful, friendly environment. Where they demonstrated their hard won fighting skills, with knives and swords. There were also throwing events where contestants displayed their skills throwing our spears, shovels, tomahawks, and throwing knives.

We tried to create an event where everyone can come and participate, to see how well they stack up compared to their peers, and to hone their skills.

This three DVD set is a documentary recording of the Cold Steel Challenges from 2004 to 2007. Cold Steel President, Lynn C. Thompson introduces each DVD with a general overview of the proceedings, followed by the up close, and personal view of the events that only a camera can record.


DISC 1 - KNIFE FIGHTING
DISC 2 - SWORD FIGHTING
DISC 3 - SWORD & SHIELD, SPEAR
DEMO'S AND THROWING EVENTS
Cold Steel Challenge 2004-2007 Gallery:
http://www.coldsteel.com/challenge.html