Category:
»
Swords, daggers, axes
»
Other
Volkoth Battle Claw -
UC1290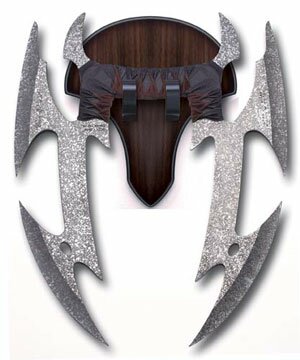 Volkoth Battle Claw
This limited edition adult collectible fantasy sword is constructed of tempered 420 J2 stainless steel, designed for alien warrior combat. Features include a braided, genuine leather-wrapped grip and Damascus acid-etched blades (false-edged). The Volkoth" Battle Claw is strictly limited to 2400 individually serialized pieces. Includes a wood display plaque with all mounting hardware and instructions.
Customers who bought this item also bought: