Reclaiming The Blade Movie -
G-RTB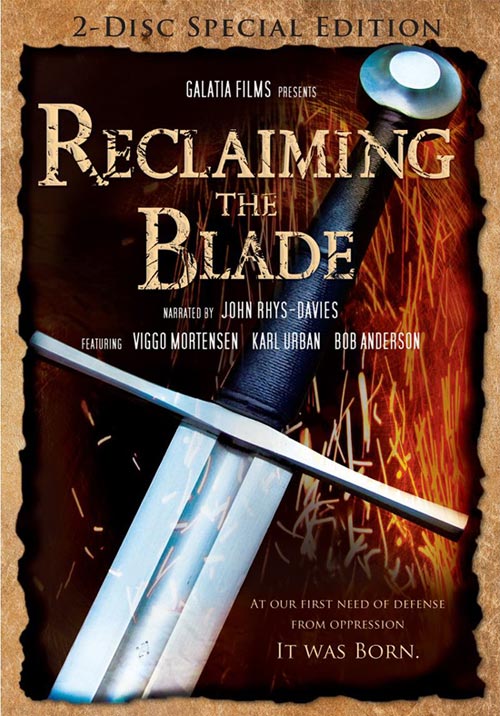 Reclaiming The Blade Movie
Reclaiming the Blade celebrates the culture and craft of swords and the Hollywood legends and academic warriors who wield them. The film explores the Medieval and Renaissance blade; a profound and beautiful object handcrafted by master artisans of old. Today, much of the history of the sword remains cloaked under a shadow of legend. Reclaiming the Blade highlights today's cinematic tribute to the beauty and necessity of the sword through films such as Lord of the Rings, Star Wars, Chronicles of Narnia and The Pirates of the Caribbean.

Narrated by acclaimed Welsh actor John Rhys-Davies and produced with the support of Peter Jackson, Weta Workshop, Skywalker Sound and the Royal Armouries, this unique film brings to life our fascination with swords in popular media and the emergence of a worldwide movement to reclaim the ancient art of medieval and renaissance martial arts. Highly anticipated, Reclaiming the Blade traces the sword's true history throughout the ages and features the following talent:

Viggo Mortensen (Eastern Promises), Karl Urban (Borne Supremacy, JJ Abrams' new Star Trek), Richard Taylor (LOTR, King Kong, Narnia), Bob Anderson (Hollywood Sword-master to Errol Flynn, Johnny Depp, Star Wars, etc), and legendary Illustrator John Howe (LOTR, Narnia),

The cutting-edge soundtrack to the film illuminates the story with an original orchestral score by composer David James Nielsen and pop/rock hits from the Doves, Yo La Tengo, The Dandy Warhols, and Juliana Hatfield, among others.

The Deluxe 2 Disc Set* contains over 4 hours of special features, including:


The Making of RTB
Exclusive Additional Footage & Interviews
Over an hour of Sword Training Videos
Behind Weta Workshop featurette
Forging a Real Blade documentary
Oakshott's Classification of the Sword featurette
New York Jedi Exclusive Featurette
Full Online RTB Diaries
Commentary with director Daniel McNicoll and John Rhys-Davies
*4 hour bonus disc not available on rental DVDs.
Customers who bought this item also bought: