Category:
»
Martial arts
»
Other
9 Section Whip Chain KungFu -
45-29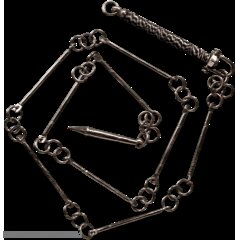 9 Section Whip Chain KungFu
Our Whip Chains are available in Seven or Nine Sections with a choice of lightweight Wushu steel(45-29N) or heavier combat steel(45-29).br> Wushu Whip Chains
This lightweight whip chain has three-ring links and three-inch sections, with a cord-wound grip. The handle end is perforated for tassel attachment. Great for beginners, kids or wushu practitioners. Comes with a black carrying pouch.
Combat Steel Whip Chains
Chrome-plated combat steel. Each section has a length of 3 1/2".

Customers who bought this item also bought:
You may also like: