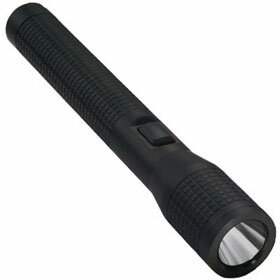 Inova T5
From troops in the field to the world's busiest international airports, military, police and security professionals depend on the powerful illumination provided by the INOVA T-Series of LED flashlights. Designed for mission critical use, the T-Series is engineered to withstand the rigors of tough duty and extreme environmental conditions. A performance lighting line of exceptional durability and proven reliability, the T-Series has the range of sizes, tactical switch designs and perfect balance for operational excellence. In threatening situations where far-reaching brightness, handling responsiveness and product trustworthiness is crucial, the T-Series is the outright leader in its category.
Light is the friend of the professional, and the INOVA T5 LED flashlight takes lighting power to a new level by illuminating objects up to 670 feet. Made to unparalleled standards of precision and ruggedness, the T5 provides from 3 to 41 hours of uniform light output. It's 4-function, mid-body switch activates high power, medium power, low power and strobe mode and enables responsive activation, tactical control and balanced handling. The T5 is a high-performance addition to any professional's equipment.

High power = 250 lumens, up to 3 hours and 205m range
Medium power = 94 lumens, up to 6 hours and 127m range
Low power = 18 lumens, up to 41 hours and 55 m range.