American Tomahawk Nessmuk Tactical Axe -
FKDBLB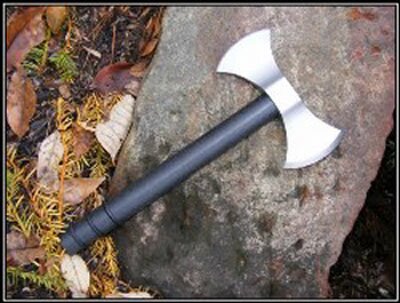 American Tomahawk Nessmuk Tactical Axe
This new design from American Tomahawk! Two edged axe uses the same handle material as LaGana Tactical Tomahawk a.k.a. VTAC. One edge is designed for chopping while the other is designed for whittling.
Features:

Steel: Billet Machined 0-1, HRC 56-58
Handle: ST(super-tough) modified nylon
Ergonomics: Oval Design Specialized O-Rings for added retention
Overall Weight: 18 oz w/o sheath
Cutting Edge Length: 3"
Handle Length: 10 3/4"
Kydex Belt Loop sheath
Made in the USA