Category:
»
Survival
»
Other
Tops Survival Neck Wallet -
TPSNW01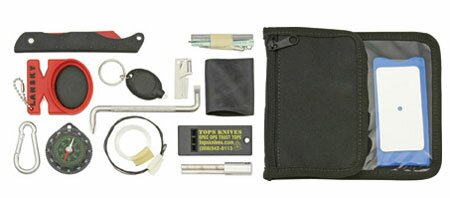 Tops Survival Neck Wallet
Tops Survival Neck Wallet. A convenient collection of the most needed survival tools packaged in a high quality black ballistic nylon neck pouch. Wallet features a see-through ID window, two interior pouches, one zippered money/credit card pouch and rear pouch with a 3M highly reflective backing. Includes TOPS survival whistle, TOPS pocket and survival saw, a liquid filled compass, a TOPS Firestarter with ferrocium rod and magnesium traditional P 38 military can opener/Firestarter striker, offset Phillips/flat head screwdriver, TOPS Dog Tag signal mirror, LED flashlight, Lansky Quick Fix Sharpener, monofilament HD line 24 ft., snap link 3/16" x 2.90", ranger rubber band, razor blade and heavy duty sail needle. When all items are packed in wallet, there is still extra room to add additional items to customize the kit for your needs.
Customers who bought this item also bought:
You may also like: