Hibben Generation 2 Small Triple Thrower Set w/Sheath -
GH2005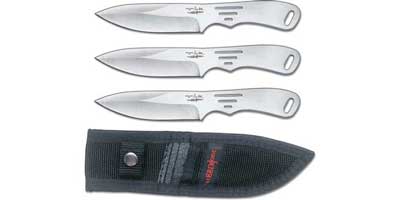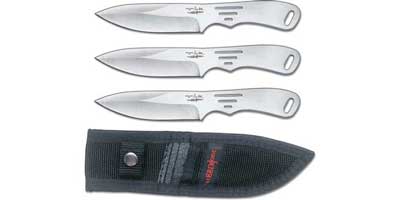 Hibben Generation 2 Small Triple Thrower Set w/Sheath
Hibben Generation 2 Thrower Triple Set
Designed by Gil Hibben, who is a master knifemaker, an avid knife thrower, and author of the the "Hibben Knife Throwing Guide" (sold separately). These throwing knives are Gil's updated designs to his original Hibben Throwers. They are constructed of one-piece, tempered stainless steel and feature ergonomic handle designs that guide the hand into the same consistent and accurate release each time they are thrown. Design patented.
Includes three throwers in a sheath designed to hold them all. Blade/Handle Material: One-piece 420 J2 stainless steel. Sheath: Black nylon belt sheath with reinforced liner and color Hibben Knives patch.
Customers who bought this item also bought:
You may also like: