Citadel Katana Super Yagu Plus -
CDK5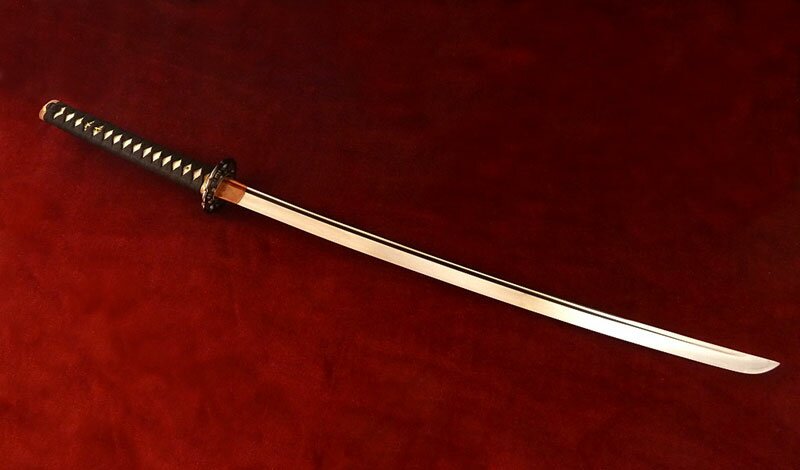 Citadel Katana Super Yagu Plus
Beautifull Shinto blade with grooves. DNH7 steel, hand forged on a charcoal bed. True selective clay temper.
Hand sharpened, hand polished DNH7 high carbon steel blade with true differential quenching. Genuine white rayskin handle with black silk cord wrap. Black finish handmade iron tsuba. Black lacquer finish wood scabbard.
Comes with a high grade Japanese silk Sageo, in its silk sleeve and cordura zipped carrying soft case with pocket for the cleaning set (not provided) and adjustable strap
Hamon : irregular Gunome
Mune : Iori
Point : Chu Kissaki
Tori Sori : 0.55"
Nagasa : 29.13"
Nakago : Takano ha
Habaki : grooved, tempered clay, forged on its blade.
Seppas : filed brass
Tsuba : aged iron n° 4A, Sukashi, Kiku Gata.
Tsuka : 11.14", white Same, brass lizard Menukis, bamboo conical Mekugi, solid bronze Fushi-Kashira engraved en-suite with vegetal designs on a Nanako style back ground, high grade Japanese silk Tsukaito braided in Ineri Maki, filed brass Ito Domes.
Saya : Jackwood; glossy, smooth, black lacquer. Kurigata, Koigushi, Kojiri are made of water buffalo horn. Filed brass Shito Domes.
Menuki and Fushi Kashira are "lost wax" cast.
Weight : 2lb 6.1 oz
Can be fully disassembled. Blade carries lifetime guarantee subjected to normel use in a Dojo.