Citadel Katana Luxe Black -
CDK8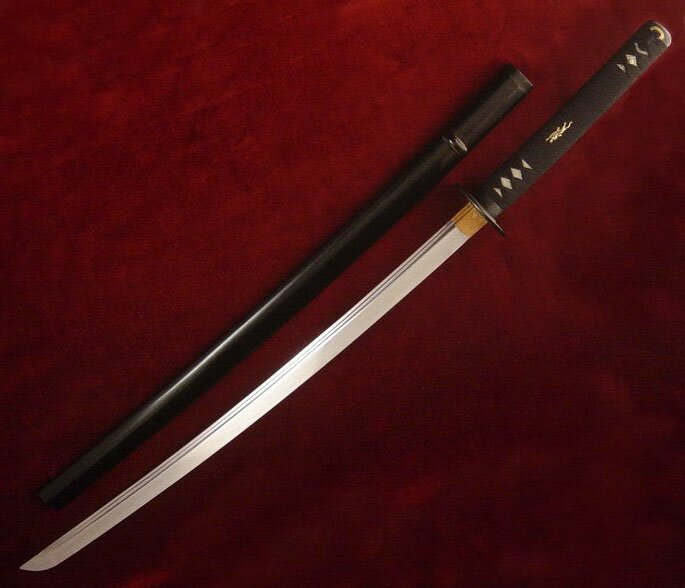 Citadel Katana Luxe Black
A Katana with a strong appearance thanks to the wide Mi haba of its DNH7 hand forged steel blade. The structure of this beautiful blade is Yamato with a typical Shinto Sugata with nice proportions. True visible selective clay temper line, of course.
Hand sharpened, hand polished DNH7 high carbon steel blade with true differential quenching. Genuine white rayskin handle with silk cord wrap. Black finish handmade iron tsuba. Black lacquer finish wood scabbard.
Delivered with a top grade Black Japanese silk Sageo, in its silk Bukuro and cordura zipper, padded case with pocket for cleaning kit (not provided) and adjustable strap.
Hamon : Gunome
Mune :Mild Ihari
Point : Chu Kissaki, Ko maru Sagari Boshi
Tori Sori : 0.5"
Nagasa : 29.16"
Moto Haba : 1.2"
Saki Haba : 1.06"
Habaki : reinforced, tempered copper forged on its blade, grooved.
Seppas : filed brass
Tsuba : De Luxe aged iron Maru Gata. Scene of house and foliage worked in positive Sukashi but also sculpted and engraved.
Tsuka : 11.14", Jackwood entirely wrapped in top quality white Same with big scale easily visible on Omote side. Tsukaito is first choice black Japanese silk braid in Katate Maki. Menuki are dragon 1 of lost wax cast brass. Bamboo Mekugi partially visible as requested by tradition. Fushi (slightly tappered) and kashira are water buffalo horn. Ito Domes are made in a double foil of filed brass.
Saya : Jackwood lacquered in glossy, smooth black color. Koigushi, Kurigata and Kojiri are water buffalo horn. Shito Domes are made in a double foil of filed brass.
Weight : 40.66 oz
Can be fully disassembled. Blade carries lifetime guarantee subjected to normel use in a Dojo.