Citadel Katana Silver and Same -
CDK10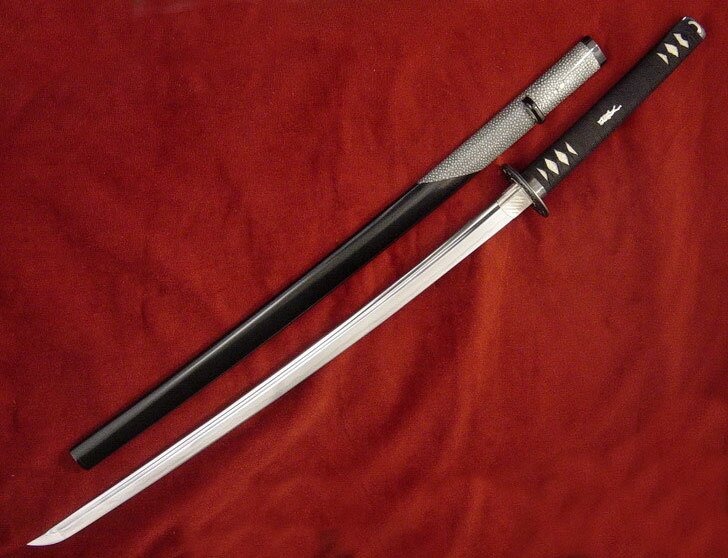 Citadel Katana Silver and Same
Beautiful Shinto style Katana well balanced with a reasonable weight.
All koshirae metal pieces are silver plated and Saya is partially covered with polished ray skin. All that gives to this sabre an elegant and serious looking.
Blade is build in Yamato style, little curved. DNH7 high carbon steel hand forged with 3 hammers on a charcoal bed. Bohi ends paralele to the point -as Japanese tradition orders. True selective clay tempering giving as usual a true and neat Hamon.
Hand sharpened, hand polished DNH7 high carbon steel blade with true differential quenching. Genuine white rayskin handle with silk cord wrap. Black finish handmade iron tsuba. Black lacquer finish wood scabbard.
Delivered with its high grade genuine Japanese silk Sageo, its silk Bukuro and nylon zipper, padded carrying case with adjustable strap and pocket for cleaning kit (not provided).
Hamon : Midare Gunome
Mune :Ihari
Point : Chu Kissaki, in bulb shape according to Yamato criterions. Boshi Komaru little curved
Tori Sori : 0.5"
Nagasa : 28.12"
Moto Haba : 1.2"
Nakago : file marks are Takano ha style.
Habaki : new model thicker and reinforced at the base. Tempered copper forged on the blade. Silver plated and engraved in Yujo style (Star shower).
Seppas : silver plated filed brass
Tsuba : Aged iron, Maru Gata. Hand hollowed out, carved and sculpted in Sukashi. design of stems of 3 flowers which hart is made of a drop of silver/tin alloy.
Tsuka : 11.4", White Same with big scale entirely wrapps the hilt. First choice Japanese silk is braided in Katate Maki style. Dragon 1 silver plated Menukis. Bamboo Mekugi. Fushi-Kashira are aged iron. Filed brass, silver plated Ito Domes.
Saya : Glossy, black lacquered Jakwood bottom. Top is covered with grey, polished Same coated with lacquer. Koigushi, Kojiri, Kurigata are buffalo horn. Shito Domes are filed, silver plated brass.
Weight : 37.25 oz
Can be fully disassembled. Blade carries lifetime guarantee subjected to normel use in a Dojo.