Citadel Katana Super Yoshi -
CDK14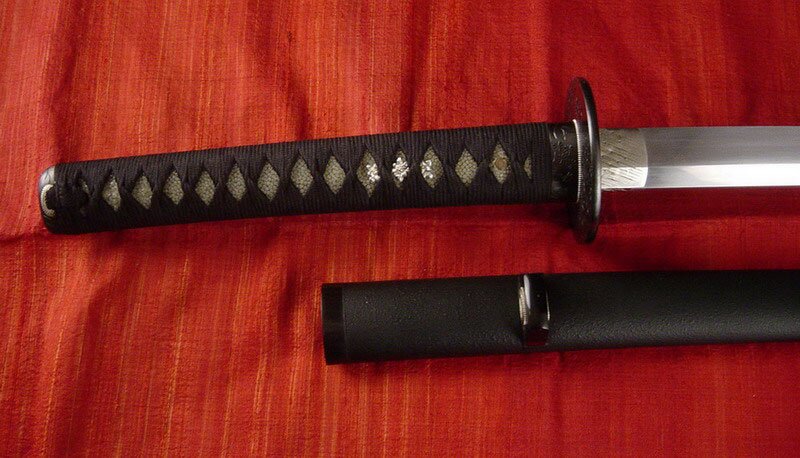 Citadel Katana Super Yoshi
Beautifull Koto style blade. Dnh7 steel hand forged with three hammers on sharcoal bed.
Hand sharpened, hand polished DNH7 high carbon steel blade with true differential quenching. Genuine white rayskin handle with silk cord wrap. Black finish handmade iron tsuba. Black lacquer finish wood scabbard.
Delivered with high grade Japanese silk Sageo, silk sleeve and canvas carrying soft case.
Hamon : Shuguha.
Mune :Ihari
Point : Chu Kissaki.
Tori Sori : 0.75"
Nagasa : 27"
Nakago : Takano Ha.
Habaki : tempered copper, finely engraved in "stars shower" and silver plated
Seppas : filed, silver plated brass
Tsuba : Maru gata . aged iron . Full and engraved with Japanese traditionnal figures.
Tsuka : 11". Light grey Same . brass, silver plated flower Menukis . bamboo Mekugi . Fushi Kashira are aged, engraved (vegetal themes) iron . Japanese high grade silk Ineri maki Tsukaito . Filed, silver plated brass Shito Domes.
Saya : Jackwood . Mate black Lacquer . Kurigata, Koigushi, Kojiri are made of water buffalo horn.
Weight : 41.76oz
Can be fully disassembled. Blade carries lifetime guarantee subjected to normel use in a Dojo.