Kellam Knives Prowler - Wolf Pack -
WP3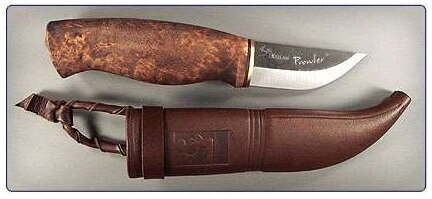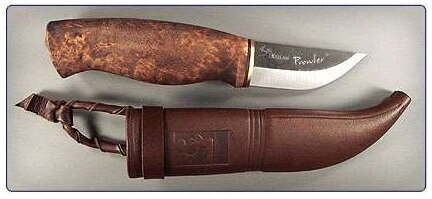 Kellam Knives Prowler - Wolf Pack
The effectiveness of the wolf as a hunter is rarely matched. Knives that embody the hunting qualities of the wolf. These knives allow the hunter to embody the RAZOR-SHARP wolf.
Prowler™ - WP3 - Hand made in Finland. Prowler TM is the smallest of the Wolf Pack™ with it's 2.8" carbon steel blade. This wolf has the advantage of stealth and an amazing skinning ability matched by no other.
The knife comes with a handsome dark brown leather sheath which is embossed with the Kellam Knives logo. Handle - Stained Curly Birch.