Multitool Gerber Multi-Plier 600 Pro Scout Needlenose with Toolkit -
7564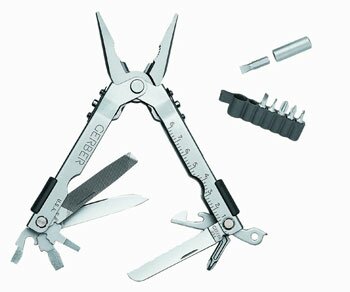 Multitool Gerber Multi-Plier 600 Pro Scout Needlenose with Toolkit
Gerber Multi-Plier 600 Pro Scout Needlenose with Toolkit
The Pro-Scout is the most deluxe version of our Multi-Plier 600 line, with Fiskars scissors and the patented universal saw coupler with the premium RemGrit blade.
Like it's brethren in the Multi-Plier 600 family of products, the Pro-Scout is engineered from premium stainless steel. And it sports our popular one-hand opening pliers and the Saf.T.Plus locking system.
Folks, this is a very serious tool. With a level of strength and capability that could be lost on most people. But you're definitely not like most people, now are you. Maybe you're even kinda rough on your tools. All the more reason why you need a Pro-Scout. And now.

Pliers Type: Needlenose
Components: Needlenose pliers, wire cutter, wire crimper, serrated knife, RemGrit saw with universal saw coupler, Fiskars scissors, cross point screwdriver, small and medium flat blade screwdrivers, can opener, bottle opener, file, and ruler. Tool kit with six bits
Handle Material: Stainless Steel
Handle Color: Bead Blast
Sheath Material: Ballistic nylon
Seven piece tool kit included
Flick of the wrist, one-handed opening pliers.