Multitool Gerber Multi-Plier 600 Needlenose with Tool Kit -
7540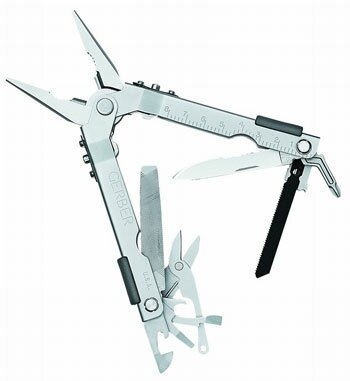 Multitool Gerber Multi-Plier 600 Needlenose with Tool Kit
Gerber Multi-Plier 600 Needlenose with Tool Kit
We can think of about 600 reasons why this much-applauded multi-tool belongs on your belt. But don't worry, we'll just stick to the most important ones here. Like profound versatility, for example. And failsafe performance. And a level of rock-solid design and construction that pleases the eye and satisfies the soul.
It all begins with high quality stainless steel. Then we incorporated Gerber's patented one-handed opening pliers. Of the 6 models available, three feature the standard needlenose plier and the other three have our bluntnose configuration.
You'd be hard pressed to find a more rugged or more fearless multi-tool out there. But go ahead and look around a bit. See what you think. Then c'mon back to Gerber and pick the Multi-Plier 600 that truly suits your needs. We're building plenty.

Pliers Type: Needlenose
Components: Needlenose pliers, wire cutter, wire crimper, serrated knife, RemGrit saw with universal saw coupler, Fiskars scissors, cross point screwdriver, small and medium flat blade screwdrivers, can opener, bottle opener, file, and ruler. Tool kit with six bits.
Handle Material: Stainless Steel
Handle Color: Bead Blast
Sheath Material: Ballistic nylon
Flick of the wrist, one-handed opening pliers.