Multitool Gerber Recoil Auto Plier 500 Needlenose -
8474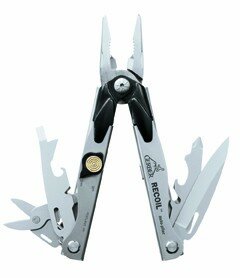 Multitool Gerber Recoil Auto Plier 500 Needlenose
Gerber Recoil Auto Plier 500 Needlenose
Okay, let's get one thing straight right away. Even though the name Recoil Auto-Plier suggests that this industry-impact tool is good for working on automobiles—which of course is true—it's actually ideal for infinite tasks. Because "auto " refers to our fully automatic plier opening system.
This is an unprecedented one-handed opening solution that works very much like a switchblade. Just push the button and the pliers snap out with a vengeance.
And if that wasn't enough, our designers also engineered a clever spring-loaded handle construction, for additional ease of use. The stainless steel tool set includes Fiskars scissors and many other practical tools.... each one of which is secured by our patented Saf.T.Plus locking system: easily the safest and strongest lock in the business.

Pliers Type: Needlenose
Components: Automatic needlenose pliers, wire cutter, wire stripper, Fiskars scissors, flathead screwdriver, cross point screwdriver, fine edge knife.
Handle Material: Stainless Steel
Handle Color: Bead Blast
Sheath Material: Ballistic nylon
Fully automatic opening pliers
Spring-loaded handles.