Lord of the rings Collector's Chess Set -
NN2990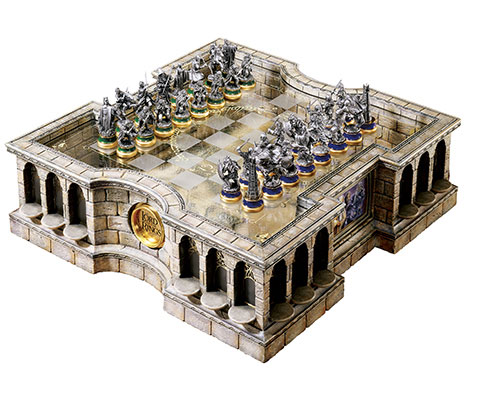 Lord of the rings Collector's Chess Set
Chess set based on Lord Of The Rings movie. Every detail is authentic, richly realistic and true to the Academy Award winning epic film. The board is a magnificent work of art, detailing the story of Frodo, the reluctant hero of The Shire, and the friends and foes he encounters throughout his amazing journey.

An ancient map of Middle-earth is mounted below the playing surface, and the base features actual images of the memorable characters and scenes from the thrilling New Line Cinema motion picture.

The 32 playing pieces are precise miniature sculptures in fine pewter of the actual cast members and each likeness is so realistic-they were personally approved by the individual actor.

Board measures 38 x 38 cm.
A perfect gift for young and old as a board game as well as a collector's product for all fans of Tolkien's work.