Multitool Leatherman New Wave -
830078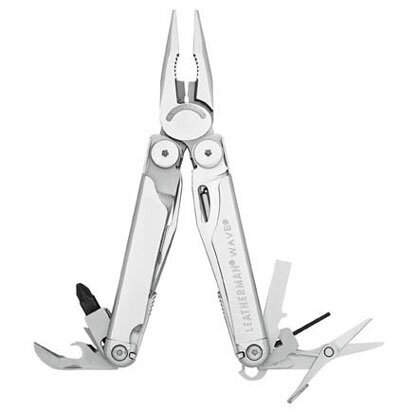 Multitool Leatherman New Wave
Leatherman New Wave
The most popular full-size Leatherman tool is now better than ever. Larger knives, stronger pliers, longer wire cutters and all-locking blades make the new Wave an essential piece of equipment for most any job or adventure. Add the Leatherman Bit Kit for maximum versatility.

Needlenose Pliers
Regular Pliers
Wire Cutters
Hard-Wire Cutters
Clip-Point Knife
Serrated Knife
Saw
Scissors
Wood/Metal File
Diamond-Coated File
Large Bit Driver
Small Bit Driver
Large Screwdriver
Ruler (8 inch/19 cm)
Bottle/Can Opener
Wire Stripper
Lanyard Attachment
Two Double-Ended Bits

Materials: 100% stainless steel (Optimum grade hardness for each tool/blade)
Included Screw Bits:
Phillips and flat tip eyeglass screwdriver
Phillips #1-2 and screwdriver 3/16"
Customers who bought this item also bought: