Category:
»
Swords, daggers, axes
»
Other
Black Ronin Ninja Sword -
UC1184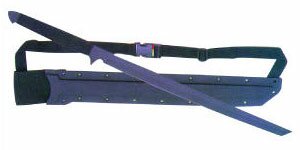 Black Ronin Ninja Sword
Black Ronin Collection Named after the infamous Ronin, the rogue masterless samurai warriors. This collection of full tang blades is constructed of one-piece, tempered 420 stainless steel with a coated non-glare, black finish, and the grips are traditionally hand-wrapped and tied with black nylon cord.

Blade/Handle Material: Tempered 420 stainless steel, black, non-glare finish, black nylon cord-wrapped grip. Scabbard: Fiber-reinforced nylon, lashing grommets, fully adjustable nylon shoulder and leg straps.