Samurai 3000 Collection - Katana -
UC1258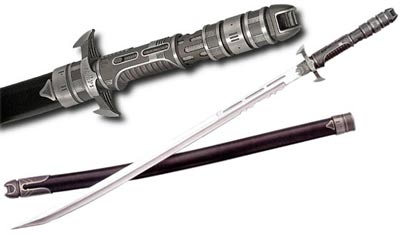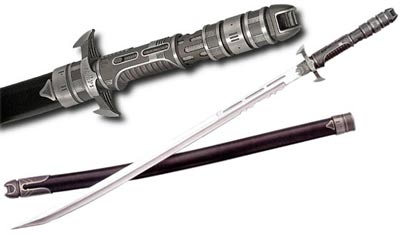 Samurai 3000 Collection - Katana
Blade Material: 420 J2 stainless steel. Handle Material: Precisely machined metal, brushed metal finish, push tang (1/2 length) construction. Scabbard: Aluminum, precisely machined metal parts.

Samurai 3000 Collection
The sword of the future, brought to you through a portal in time by United Cutlery. The Samurai of the year 3000 A.D. is a master of high technology fighting and weaponry and his primary arm is the plasmium sword, a device constructed by highly disciplined sword masters using an extremely secretive form of physics. Its virtually indestructible blade, charged by high energy ionized plasma, cuts through practically any material except another blade of its kind. The UC1258 and UC1260 feature the Samurai code of justice, service, and honor on the handguard, engraved in their secret language. The handle of this high quality adult collectible is made of precisely machined metal parts. The scabbard locks to the handle and can only be released with the push of a hidden button.
Customers who bought this item also bought: