The Ninja and Their Secret Fighting Art -
SKH0025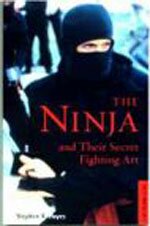 The Ninja and Their Secret Fighting Art
Autor: Stephen K. Hayes
ISBN 0-8048-1656-5 156 pages Softcover

Story of Stephen K. Hayes' first trip to Japan in search of the ninja. Mind and body ready for combat, history, strategy, philosophy, and spiritual powers of Japan's invisible warriors.
"A landmark book - 82,000 copies purchased by readers as of 2004"
Customers who bought this item also bought: