LOTR War Helm of the Witch-King - Limited Edition -
UC1457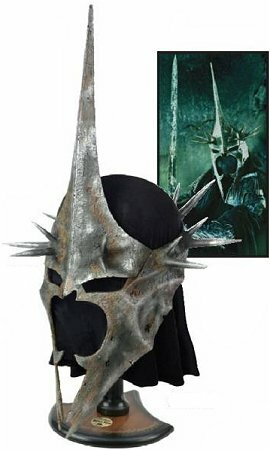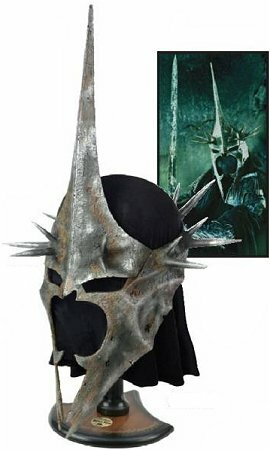 LOTR War Helm of the Witch-King - Limited Edition
This authentically detailed helmet is a reproduction of the helmet prominently featured in The Lord of the Rings, The Return of the King, presented by New Line Cinema. United Cutlery Brands, industry leader in fine movie reproductions, has meticulously recreated the actual prop helmet using the original movie prop molds. Close attention to detail is a top priority in every piece, down to the textured surfacing and corroded metal coloring that precisely match the original movie prop. This actor's scale helmet is wearable and crafted in steel-reinforced fiberglass resin and features a genuine leather-lined interior with a black cloth hood. Each helmet is presented with a wood display stand adorned with The One Ring inscription and a brass medallion. The War Helm of the Witch-king" is strictly limited to 3000 pieces worldwide and is individually serialized on a solid brass plate mounted on the inside of the helmet to ensure authenticity.
Limited edition WAR helm of the witch-king" Includes a parchment certificate of authenticity. helm Material: Steel-reinforced, fiberglass resin mask. Resin dome with a genuine leather-lined interior and black cloth hood. Individually serialized solid brass plate. display: Wood with a burned-edge finish, brass medallion.

Greatest among the Nazgul was the Witch-king" of Angmar. As Saurons number one servant, he was appointed commander of the forces. During the Siege of Gondor, the Witch-king" wore ancient kingly armor. Although rusted, as was his sword, it still served as protection. It was elaborate in design, with pauldrons resembling dragons wings and interlocking lames that looked like scales. Finishing off the armor was a spiked helm, an elegant but intimidating design, that was as much for protection as it was to invoke fear in opposing forces.
Customers who bought this item also bought: